In the 3rd week of April we went for a weekend trip to Munich to spend our first anniversary. The last time I was here it was to run a half marathon, but this trip was just for rest and relaxation. The weather was fine and remained perfect throughout the weekend, thankfully! We reached thee in the afternoon and spent the rest of the day walking through the crowds and drinking Gluhwein. The Christmas spirit was everywhere.
Munich is a beautiful city and capital of Bavaria. The city is famous for Oktoberfest but this is not the only good thing about Munich. There are lots of things to do here which we found out over the weekend. Let us take you through the 5 things we saw and did in Munich.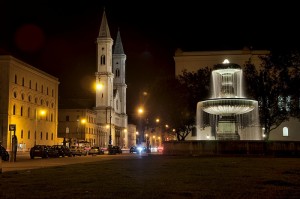 1) We first went to the English Garden which is a beautiful city center park away from the hustle and bustle of city life. It is a great place to take a stroll and there are vast expanses of parkland which are very popular with sunbathing nudists. There is also a Chinese pagoda and trees which looked absolutely stunning. There is a large beer garden where you can relax with a stein of beer and a bag of pretzel.
2) If you are looking for Bavarian specialties like us then you must visit the food market. Here you will get pork knuckle, smoked Black Forest ham lots of local cheeses in the open-air stalls. You can visit the nearby historic wrought-iron market which has a number of shops and restaurants.
3) The St Peter's Church Tower has a majestic structure and one needs to climb as many as 306 steps to enjoy an amazing view of the city from the top. It has a splendid altar and a stunning gilt and jewel colored skeleton of St Mundita. It is the oldest church in Munich and dates back to 1180.
4) Before the end of day, we went to visit the Museum of Modern Art where the admission fee is only a euro on Sundays. The museum has more than 60 works by Joseph Beuys, Damien Hirst, Bruce Nauman etc. The museum opened in May 2009 and the building was designed by renowned architect Sauerbruch Hutton.
5) On Sunday we went to visit the Natural History Museum where the entrance fee is only a euro on Sundays. There are modern interactive and traditional exhibits with a special hands-on' section. Since it was adjacent to the Botanical Gardens and located on the grounds of the Nymphenburg Palace, we visited all three on Sunday before we drove away from Munich with a bagful of memories.